Summary: Canadian Wear Technologies was approached to address operational efficiencies with a 60 x 89 Allis Chalmers Gyratory Crusher.
The Problem: The hard rock mining company was reporting continuous downtime, lost production and high maintenance costs.
The Solution: The A-Team engineered an Abreco Wear System® that was installed on the Lower Shell and Surge Pit area.
The Result: In a side by side comparison the annual savings in maintenance, downtime and lost production exceeded $800,000.
Canadian Wear Technologies was contacted to collaborate on designing an Abreco Wear System to address frequent and costly shutdowns at a mining operation. The operation was using a 60 x 89 Allis Chalmers Gyratory Crusher. Liner changes in the Surge Pit area were averaging 15 liners every two weeks. Expenses related to mining wear products for this mining operation were higher than similar operations which is why Canadian Wear Technologies was contacted.
After a careful review and analysis the A-Team installed Abreco® Octagon Wear Buttons and the Abreco Mech-Lok Liner.
Two and a half years later, the machine throughput has been 65 million tons of abrasive iron ore feed stock. There have been virtually no repairs required on the Lower Shell with the exception for a few buttons on the top row. In the Surge Pit area, cycle time on 96 liners improved from 13 weeks to 104 weeks. Total savings has been in excess of $2M.

Abreco Octagon Buttons after 24+ months of service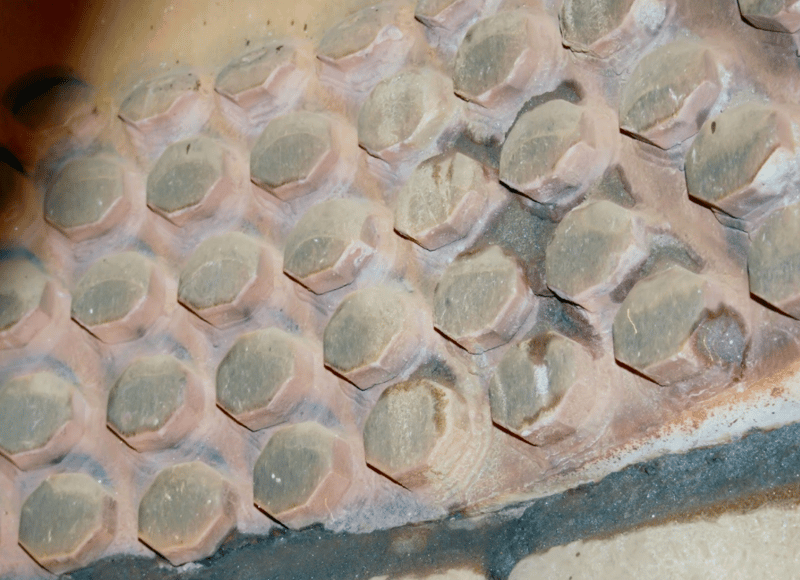 Abreco Mech-Lok Liner

Abreco Wear System after being installed